Training can be challenging if you don't have the right trainer.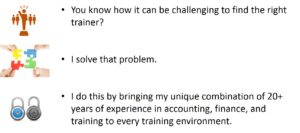 Are you responsible for training or events where you bring in outside speakers? Do you struggle to book speakers and trainers that can deliver high value for their event attendees that drives business while engaging and entertaining the audience?
I solve this problem.
I do this by using my unique combination of 20+ years of business experience with my ability to create and deliver unique high quality content that engages audiences and compels them to take action that drives results.
---
If you want consistently above average results call me now at  704-970-7146 or send me a message to info@thefpagroup.com.
---
P.S. One of my specialties is providing Continuing Education training for CPAs. As a former accountant, I know that audience particularly well.